Discover more from Agribusiness Matters
Systems Thinking in Food and Agriculture in an Age of Runaway Climate Change.
When Bayer Met Agrostar
This is not your regular rom-com fare, bleeding with cloying romantic gooeyness.
Bayer India has been making a slew of interesting announcements. At first, they announced their partnership with Agribazaar, followed by Agrostar, and finally ITC e-Choupal 4.0
In the case of Agrostar, Bayer and Agrostar jointly announced that they would be partnering to deliver seeds and crop protection products directly to the farmer's doorsteps. (Although policy wise, Pesticides Act doesn't permit door delivery of agrochemicals to farmers)
In the press release, Simon Wiebusch, Chief Operating Officer for Bayer India's Crop Science Division, said,
"We are happy to partner with AgroStar and serve farmers during the current difficult situation and even beyond. The Go-to-Market approaches in the Indian agri-input industry have been static over the last five decades. With the rise of digitalisation, the industry will witness very dynamic shifts over the next few years. With increasing incidence of online e-commerce platforms, the trend is fast catching up in the agricultural space and is here to stay. We want to provide farmers diverse choices beyond the traditional services they rely on and create a more customer-centric experience,
I had been waiting for this news for quite some time.
In my article elaborating the first agritech industry Unmagic Quadrant on Digital Agronomy a few months back, I wrote,
"In the case of Agrostar, they are currently in low-touch mode (while probably bidding their time to forge partnerships in order to go deep ala high-touch mode)
Poetically put, this was a partnership that was destined to happen. It had all the necessary ingredients to make a perfect, intelligent rom-com, much like my favourite "When Harry Met Sally".
In 2018, when I wrote an article in Agropages titled, "Should agri-input manufacturers outsource e-commerce to startups?",I had included an illustration which was based on applying Clayton Christensen's theory of disruption framework to the agri-input sector.

With Agrostar filling in the green blocks, playing to their strengths of getting agri-input products to the last mile, Bayer has found its perfect companion to flex its powerful channel distribution muscles and create a "more customer-centric experience," as Simon had mentioned in the press release.
Now wait. The story doesn't end here.
This isn't a regular rom-com fare, bleeding with cloying romantic gooeyness that makes you wonder: What is really happening beneath the surface? Did you pay attention to one statement which Simon had made in the press release?
"The Go-to-Market approaches in the Indian agri-input industry have been static over the last five decades"
Which brings us to this question: Why have the Go-to-Market approaches in the Indian agri-input industry been static over the last five decades? Some time back, Pran Arora, an Industry veteran in the Agrochemical industry had made a similar statement to this effect. He said,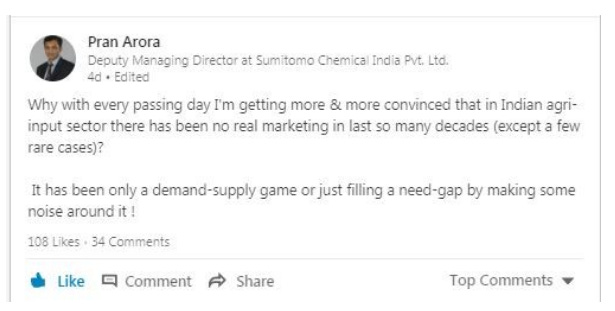 If you scratch the surface, the real question is this.
What influences the buying behaviour of Indian farmers, when it comes to agri-inputs? Is it the power of the channel or last-mile activity led field marketing?
Sure, the trade channel and the field marketing play a synchronous role in ensuring that the demand created by the marketing in the ground is fulfilled by the channel. But, if one were to pit one against the other, the answer is obvious.
Channel wins hands down. After all, it is the channel which provides credit to the farmers, which is underwritten by the margins provided by the Agri-Input manufacturer and the credit the agri-input manufacturers get from their suppliers.
Here is the how the game of traditional channel was played in the world of agri input retail.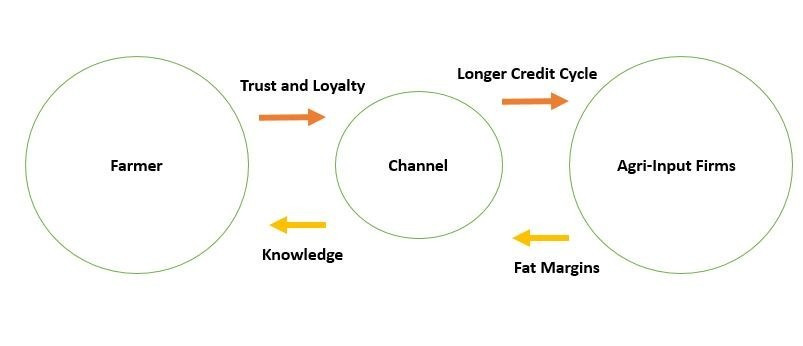 If you look at Agrostar's Origin Story, they entered this game, seeing a massive untapped opportunity in disrupting the agri-input channel's massive, yet, unspoken influence in delivering agri-input products to the farmer.
In their book, Principles and Practice of Impact Investing: A Catalytic Revolution, the authors include a nice graphic which illustrated the real problem statement Agrostar was aiming at.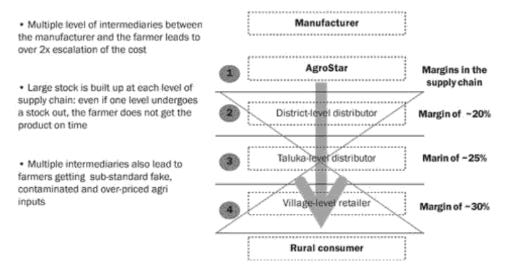 Before building their own fulfilment network and AgroEx platform for delivery tracking, their original transaction cycle looked like this, with the farmer making a missed call, followed by a call back from a sales executive who takes down the order. Fulfilment happens through the central warehouse and payment collection through India Post.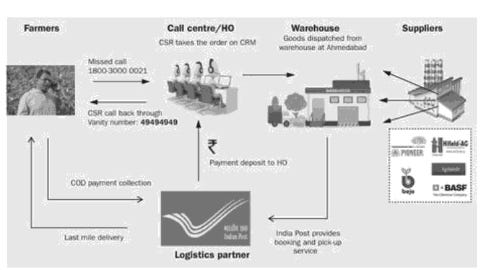 If you look at this image, one thing becomes clear.
How do you disrupt an existing two-tier channel network, when you enter the market as an e-commerce player? It's simple. You become yet another channel.
Think about it. What is the difference between Agrostar (or any agri-input e-commerce player offering free agronomy advice) and traditional agri-input retailers?
Both the old and the new give agronomy advice to farmers in order to sell agri-inputs.
( It's a separate story some other day whether this lack of skin in the game helps farmers or not. Think about it. How can you sell agronomy advice and sell agri-inputs? You either do the former or the latter. It's unethical to do both).
Being a channel to serve farmers in the last mile comes with its own baggage.
You have to manage your inventory and warehouse costs, you have to take care of distributor and sales commission and so on. In other words, expect your gross profit margins to go down south until you fully optimize your fulfilment network by making further investments in logistics networks. Do remember that this fixed cost investment has to be borne by customers at some point, which means, as it has happened to Amazon, "the more customers the aggregator acquires, the less any one customer is responsible for those fixed costs".
But, there is an even bigger risk that is waiting in store for agri-input manufacturers.
Picture Quiz: Do you see something unusual in this image I picked up from Agrostar website?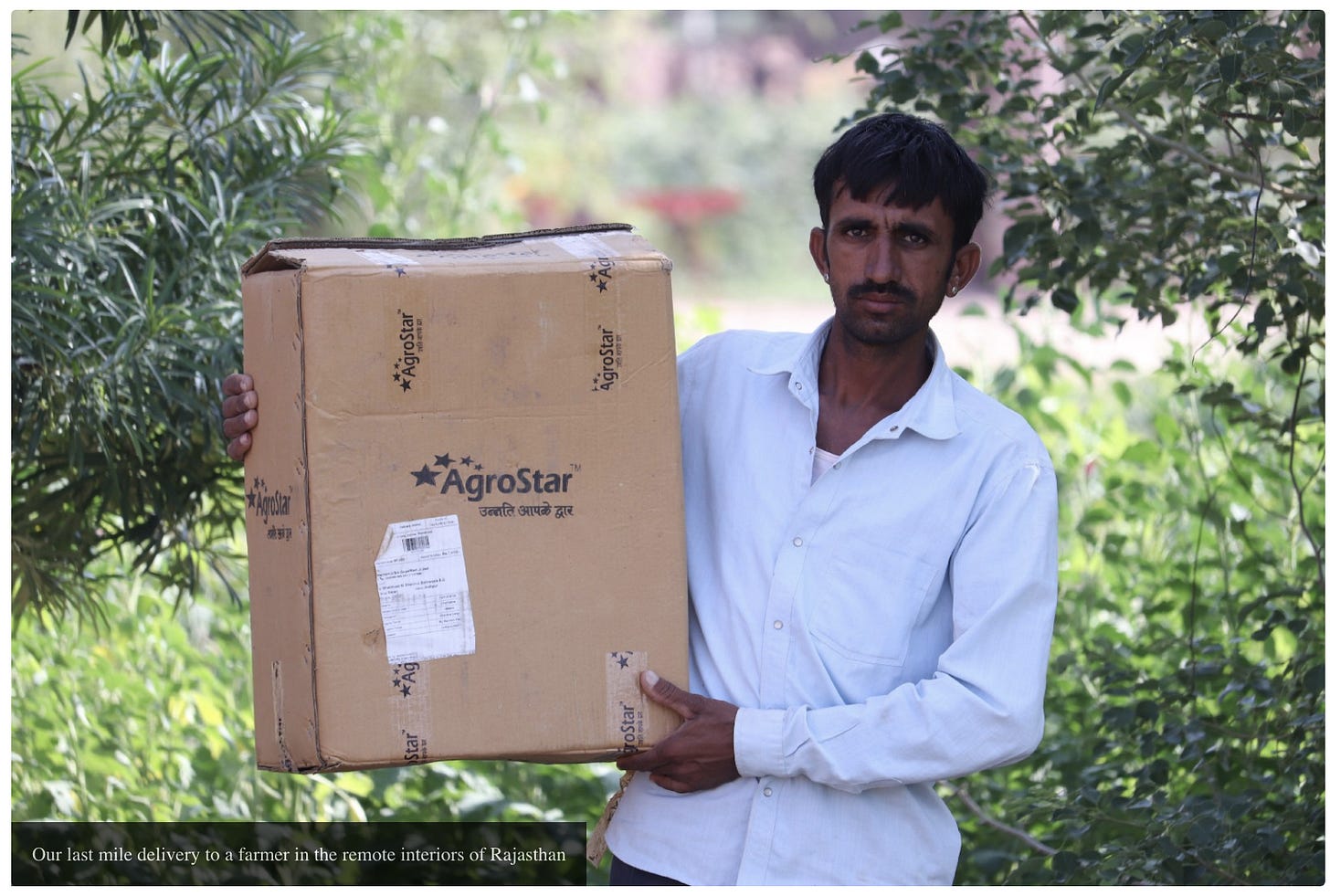 The brand packaging of Agrostar supersedes the brand of the agri-input product that is actually being served to the farmer.
This is where a channel like Agrostar differentiates itself from traditional two-tier channels which have been serving farmers by providing agri-inputs supplied by agri-input manufacturers.
A traditional channel sells on the basis of agri-input manufacturer's brand value, while a channel like Agrostar sells its brand first, before selling the product of the agri-input manufacturer, based on agronomy advice.
As I had mentioned earlier, in my article, What the *Puranas* of Retail can Teach Us about the future of Agri-Input Retailing
"In an aggregator play, suppliers are at the risk of getting commoditised, because it is the Aggregator and not the Agri-Input manufacturers, who is building a captive relationship with the end-customers- the farmers - through customer service and fulfilling the orders at the last mile, through agri-input retailer network."
I reckon, this Amazonian aggregator play partnership with Agrostar works for Bayer in the interim period as they contend the massive shift required in their go-to-market strategies to deal with the rising share of off-patent products. It is a given fact in the industry that the share of off-patent products as compared to patent products and proprietary off-patent products has been increasing over the years. Agrochemicals worth USD 4.1 billion are expected to off-patent by 2020.
But what about the future?
Would this partnership go the trajectory of Amazon where massive CPG brands like P&G are realising the hard way that in the online retail world, there is no bigger brand than Amazon itself?
Long story short, there are two responses that I see emerging from agri-input manufacturers to the question
Should agri-input manufacturers outsource e-commerce?
Response-1: Yes, you do. You outsource it to an Amazonian aggregator who is more likely to commoditise the suppliers and build a captive relationship with end customers, paving the way to disrupt the traditional credit flows.
Response-2: No, you don't. You build your own platform in which the traditional channel pay a subscription fee to the agri-input manufacturer to digitise their existing captive relationships with farmers.
There are plenty of lessons to be derived from the ongoing game happening in the world of platform vs aggregators.
I will be writing more about this.
Do share your comments and feedback